As I continue to build out this website, one of the more interesting pages that now exist is the "MCStudio Galley". These are the collections of renders using only the MCprep Addon and Blenderguru's Pro Lighting Studio Addon. I was the developer behind both of these addons, so I saw this project of creating a render for each Minecraft mob a perfect way to show off the technology.
The MCStudio Gallery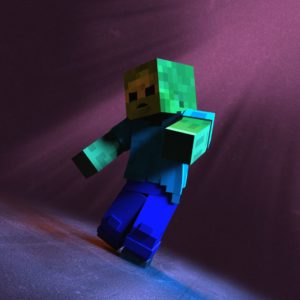 These are a set of renders that use nothing more than my MCprep addon, the Pro Lighting Studio addon, and less than 15 minutes of tweaking. Furthermore,  I restrict myself from even adjusting the default rig poses spawned by MCprep – in these renders, all mobs are in their default poses. It's all about the lighting and framing. Zero compositing, even the background is all in-frame rendered. Even the floors are generated by the studio addon. See the rest of the gallery here.
---
To kick off this brand new page, I now present the newest newly added Zombie as above. Credit to ButteredKieran for the zombie rig included in MCprep. See here for more information about the MCprep Addon, and here for more on Pro Lighting Studio.
Moo-ack!
~Patrick W. Crawford